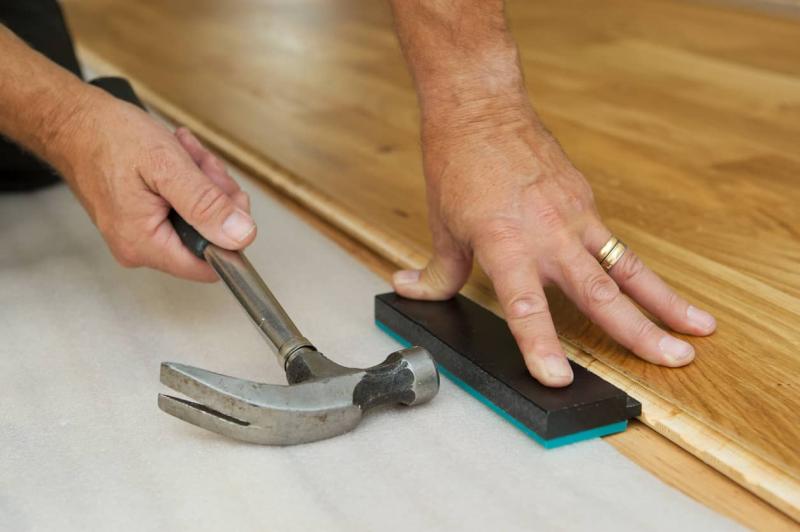 Chandler Hardwood Flooring
Hardwood floors provide a luxurious look and a solid feel and come in a variety of species and finishes that adapt to virtually any space. At Home Solutionz, our expert flooring installers can design a custom hardwood flooring solution that fits your room perfectly. From diagonal to herringbone, we offer hardwood flooring with patterns that add interest to a room and take it from beautiful to extraordinary.
Solid Hardwood Floors
Traditional solid hardwood flooring is what comes to mind most often when considering a hardwood floor. Solid hardwood floors are available in various woods including maple, walnut, cherry, oak, and many more. At Home Solutionz, we will help you choose the right wood type, finish, and design to balance both durability and function with unmatched sophistication and style.
Our hardwood flooring installers have experience installing all solid hardwood types to ensure a new floor that stands the test of time. Our team will make sure to avoid any abnormal gaps between planks and will make sure we leave your new floor with a beautiful, debris-free finish.
Engineered Hardwood Floors
Unlike solid wood hardwood floors, engineered hardwood is a combination of high-grade plywood and a real, solid wood top layer. The addition of plywood makes engineered hardwood flooring much more resistant to warping due to moisture and an excellent addition to rooms prone to moisture such as basements, kitchens, and bathrooms.
At Home Solutionz, our flooring contractors specialize in engineered hardwood installation and will help with every step of the process from picking out materials to final fittings. Installing flooring can be tricky and if done improperly can result in gaps, warping, or even an unleveled surface. When you partner with us for your engineered hardwood flooring installation project, you'll always receive top quality workmanship backed by exceptional customer service and industry leading guarantees.
For help with your next Chandler hardwood floor installation project, call us today at (Sorry, we are unavailable) and schedule a free estimate!